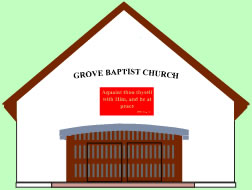 ...in the heart of East Belfast
Youth Work
Grove has always put a lot of emphasis in our work with young people. We have a great team of leaders, many of who have come through our own youth organisations. In this day and age we also ensure that we pay very close attention to the protection of all the children within our care.
If you have a child who would consider coming along to any of our activities, please drop us a line here to ask us any questions you might have. We would love to see some new young faces in Grove.
So what youth organisations and facilities do we have in Grove?
Sunday School meets at 10:15am each Sunday morning. Now known as Splash (up to P6) and Source (P7 and up), the kids meet in either Cafe Grove (the portacabin beside the church) or in the main church halls. Christmas is always a special time for the Sunday School and they play their part in the Carol Service at Grove, a real must for the parents.
Girls Brigade (233rd Company) meet each Monday night in the church. Girls are welcome from age 3 and up. The girls are split up by age into Explorers, Junior section or Senior section. The Company at Grove used to meet in Elmgrove School and many of the girls attend that school.
Boys Brigade (119th Company) meet up each Friday night in the church. The boys are split up by age into Anchor boys or Junior section. (It is hoped to have a Company section again in the near future)
Youth Club meets on a Friday night after the BB finish at 8pm. The club reaches out to Primary 7 and over kids in the area. All the usual youth club activities are provided and trips away are organised throughout the year. You can visit their own ExperienceYC Facebook page here.
In addition to the above, the church organises special Youth Weekends and we have our Holiday Bible Club towards the end of the school holidays.
To read a report about Grove hosting our first BYE Team (Baptist Youth Evangelism), just go here.