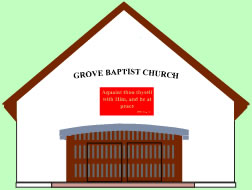 ...in the heart of East Belfast
Welcome to Grove Baptist Church
Welcome to our wee place on the Web and thanks for stopping by.
Grove Baptist Church is located on the Beersbridge Road, right in the heart of East Belfast. We meet on Sunday morning at 11:30am and in the evening at 6:30pm.
Our original website was set up in January 2000 and you can keep up to date from our What's New page. As well as information about the church and our activities, we now host over 500 free Sermons and Thoughts from a number of gifted Pastors here in Northern Ireland.
We have our recent church services in Grove stored on the website as audio files. You can now listen to the services on-line or download them to listen to later on your PC, MP3 player, iPod or iPhone. Just go to our Audio Ministry page.
Jonny Ormerod was inducted into the role of Pastor of 'The Grove' on Friday 4th March 2016. Jonny, his wife Jessica and the two boys were warmly welcomed by the church family that evening.
Why not drop us a line via our Contact Us page, or better still, pay us a visit anytime?
Are you SURE that you have your place booked in Heaven? Read this if you're not!