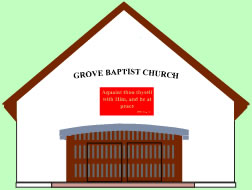 ...in the heart of East Belfast
What's New - July 2017
Our usual outreach at the front of 'the Grove' before the "Mini Twelfth" will take place on Saturday 1st July. We would love to see you out on the Beersbridge Road listening to our speakers and hymn singing.
The children's Holiday Bible Club has been arranged this year for Wed 16th to Fri 18th August. A flyer has been added to the front page of the website too.
Our Twitter (@GroveBaptist) is updated a couple of times most days. Even if you don't have Twitter on your mobile phone, you can read all our tweets on the Internet here.
To listen in to our church services anywhere around the world, just go here.
Have a look at all the upcoming meetings and events on our on-line Calendar here.
Many congratulations to Andrew Allen who recently retired as one of our Elders in 'the Grove'. To see a photo, just go here.
To read a welcome message from Pastor Jonny Ormerod, just go here.
To view all our church photos, just just go here.
The church at Grove was 100 years old on 1st November 2015. We had a special Anniversary Weekend from Friday 30th October to Sunday 1st November. Thanks again to our speaker during the weekend, Dr Robert Murdock and for the Sydenham Salvation Army band and Songsters for our Saturday praise night. It was great to catch up with old friends and to meet new ones. Many thanks for your presence with us over the weekend.
A short version of our "Get into Grove" video from 1999 was added to YouTube. To have a look, just go here.
New photos are also posted each week on our Twitter feed here
Have a smart mobile phone? Why not keep an eye on 'the Grove' Twitter feed… "@GroveBaptist". It is updated a few times each week with verses, photos, links to articles etc. Or to see it on your Computer, just go here.
The 'Real Lives' mission between the four local Baptist churches took place from 21st - 26th April 2013. This was held in Castlereagh Baptist Church sports hall and was a great success. Many thanks to all those who made the event happen. To listen to all the Real Lives talks, just go here to download them. You can also still go here to view our Mission Presentation
It is great to see new faces attending our Sunday Services and also Cafe Grove. Our Sunday Services are at 11:30am and 6:30pm and Cafe Grove is open each Tuesday from 10am to 1pm. You can also listen to our Church Services on-line by going to our Audio Ministry page and and selecting the service you want to hear.
Last updated 26/06/17